Phuket, Thailand (October 11, 2022) – Wyndham Vacation Resorts (Thailand) Limited, a property management division of Wyndham Destinations, today announced the signing of an agreement to manage Zenmaya Oceanfront Phuket, Trademark Collection by Wyndham hotel in Thailand.
Wyndham Hotels & Resorts, which owns the Trademark Collection by Wyndham brand, has named Wyndham Vacation Resorts (Thailand) Limited as a choice hotel operator for this project in Phuket, Thailand. Under this partnership, Wyndham Vacation Resorts (Thailand) Limited will provide management services to the 50-room boutique resort. Wyndham Destinations and its management subsidiaries currently oversee the management of approximately 70 hotels and resorts across Australia, New Zealand, Fiji, Europe, Thailand, Japan, and Indonesia.
The Trademark Collection by Wyndham brand is a collection of independently minded upper-midscale properties. Every Trademark hotel is distinctive, taking on the character of its surroundings and connecting our guests with local culture, surrounding nature and unique design of each Trademark property. In addition, hotels benefit directly from being part of the revenue generation programs and can leverage on world class connectivity, distribution, a lower operating cost model and initiatives that a brand company like Wyndham Hotels and Resorts can do.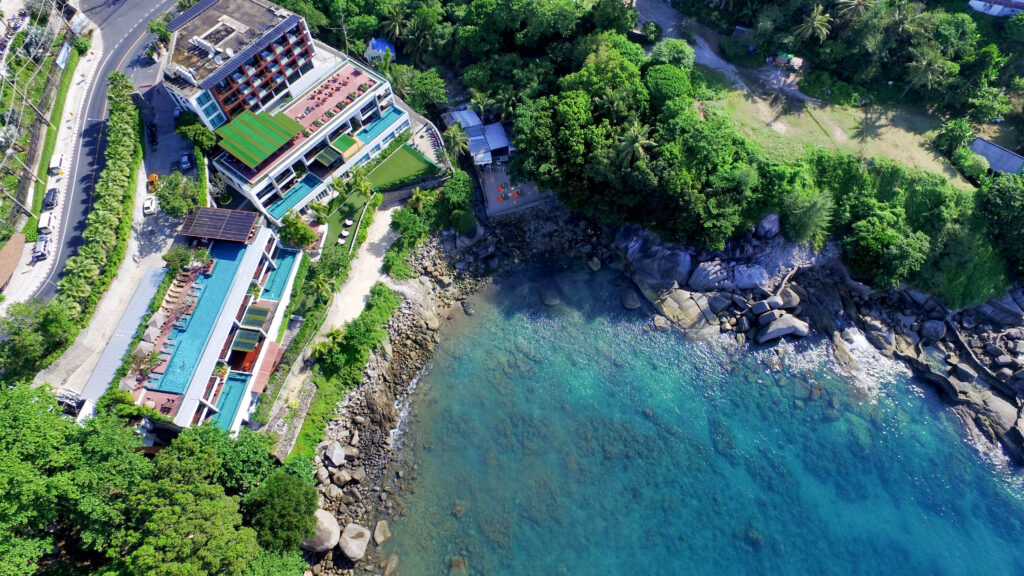 "In the last three quarters of 2022, the strong momentum in hotel openings across Asia Pacific continues to signal long-term confidence that our partners place in our globally established brands. The opening of Zenmaya Oceanfront Phuket, Trademark Collection by Wyndham in Thailand joins our extensive network of 17 hotels across the country from Bangkok to Phuket and Krabi. Being a well-established international hotel company, we know what it takes to deliver excellent returns for our partners and owners. Looking ahead, we will continue our focus and expand in many exciting cities across the country to serve the increasing demand for high-quality hospitality experiences." said Mr. Joon Aun Ooi, President, Asia Pacific, Wyndham Hotels and Resorts.
The trendy boutique hotel has officially opened and is located at idyllic Kalim Beach overlooking Patong Bay. The resort is just 5-kilometres from the heart of the city.
The décor and experiences offered at the hotel provide a refreshing 'beach club' vibe, from quirky art and collectables to vibrant common spaces including a large open-air deck, infinity pool, an onsite bar with a live music schedule, pool tables and daily sunset cocktail hour. Rooms exude style with expansive private balconies and terraces, some with separate living quarters, rainfall showers, and a Jacuzzi soaker tub.
The resort offers a range of room types, which overlook the ocean, a boutique meeting space for up to 40 guests, plus Zeascape, an onsite restaurant and bar specialising in sumptuous Thai cuisine with a modern twist.
"We are delighted to be partnering with Wyndham Hotels & Resorts to open our third managed property in Thailand, said Barry Robinson, President and Managing Director, International Operations, Wyndham Destinations. "Zenmaya Oceanfront Phuket- a Trademark Collection by Wyndham hotel provides the ideal base for travellers eager to discover the many wonders of Phuket, whilst enjoying one of the trendiest boutique hotels in Thailand."
Beyond offering a host of amenities and dining options, hotel guests will be able to register and enjoy the award-winning Wyndham Rewards loyalty program. Named the number one hotel rewards program by readers of USA TODAY, Wyndham Rewards® is the world's most generous rewards program with more than 50,000 hotels, vacation club resorts and vacation rentals worldwide. Designed for the everyday traveler, members earn a guaranteed 1,000 points with every qualified stay and may redeem points for a wide range of rewards, including free nights at any of over 8,900 hotels or tens of thousands of vacation club resorts and vacation rentals globally through affiliation with Wyndham Destinations and others. Wyndham Rewards has approximately 95 million enrolled members globally.
Recent Post