PHUKET, THAILAND: Wyndham Grand Phuket Kalim Bay is growing its own fresh produce for guest meals through a specially-planted orchard and herb garden, in a push to be even more sustainable.
Team members have transformed a 6,000 square metre block of land above the resort with 160 coconut trees, 180 banana trees, 180 papaya trees, and four kinds of home-grown spices: lime, kaffir lime, lemongrass and fingerroot. All these are common ingredients in Thai cooking and the produce grown here will be served to guests.
"At Wyndham Grand Phuket Kalim Bay, we believe in being more sustainable wherever it is possible. Planting this orchard and herb garden makes use of land which was previously unproductive and lowers both the spending and consumption of the resort," said General Manager, Dominic Egger.
"The quantities of fruit and spices will eventually be substantial enough to consistently supply all our food and beverage outlets onsite. Guests participating in our renowned cooking classes will also be able to go through this garden and pick their own fruit and spices to feature in their dishes," he added.
Wyndham Grand Phuket Kalim Bay has four food and beverage outlets onsite: Latitude 98 Restaurant, serving popular Thai-infused meals and international favourites; Thabtim Café, offering an array of classic and mixologist crafted cocktails, alongside healthy drinks; The Deck, a laidback café with delicious burgers, pizzas and gourmet snacks; and the Infiniti Lobby Bar, serving innovative classic and sparkling cocktails until late in the evening.
As part of the initiative, food waste onsite will also be collected and used as fertiliser for these fruit trees and herbs. The resort team has also experimented with concepts like growing pineapples through discarded pineapple heads in order to further reduce waste and consumption.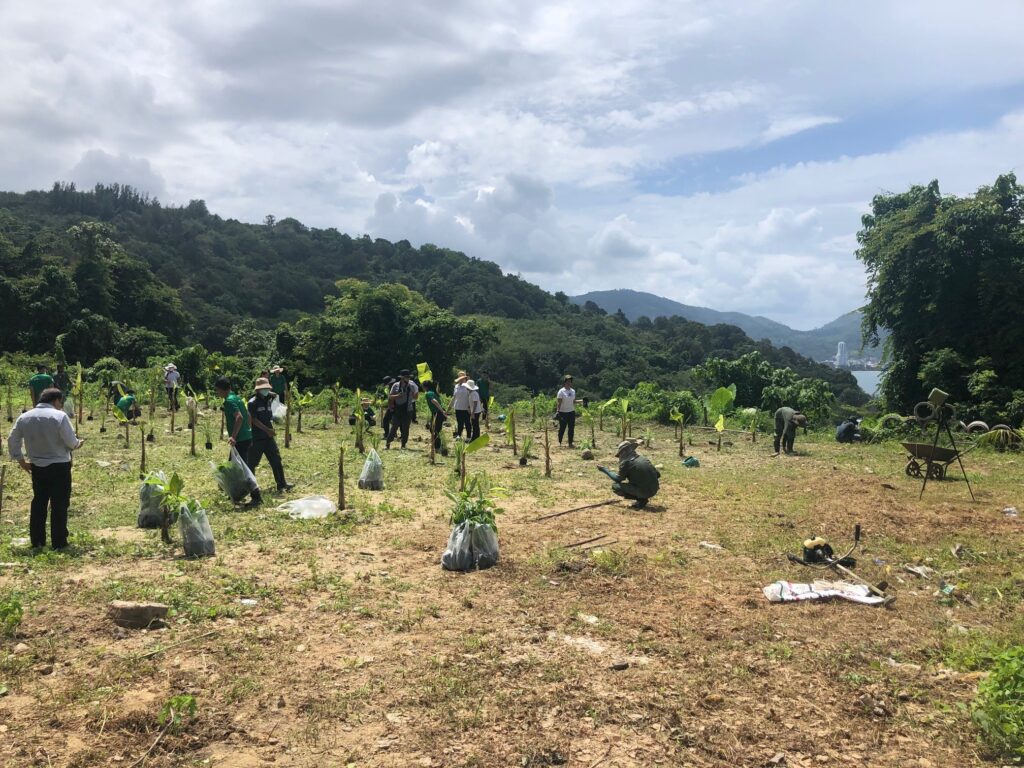 To celebrate the recent planting and recognise the many team members who gave their time to the venture, resort team members were recognised with a "into-the-wild" barbecue lunch together on the site.
Wyndham Grand Phuket Kalim Bay recently received Level 2 certification under the Wyndham Green program, which involved the installation of water efficient shower heads, controls for all heating and cooling, conducted preventative maintenance and recycled hazardous materials. The resort's team are committed to sustainability and regularly clean local beaches and recycle.
The 214-key resort is perched on the side of a spectacular cliff with sweeping views of the Andaman Sea and features two outdoor pools, a full-service spa offering traditional Thai therapies, fitness centre, and a large ballroom with sweeping views of the bay. The resort offers 152 private pool suites and villas, each with their own personal six or nine-metre pool overlooking the resort gardens or the Andaman Sea. It offers resort rooms and suites to guests and apartments used by members of Club Wyndham Asia and Innovative Holiday Club by Club Wyndham, two leading timeshare clubs in Asia Pacific.
Recent Post