Adelaide, August 21, 2023 – TRYP Pulteney Street, the newest hotel to grace Adelaide's CBD, has emerged as the shining star of the prestigious Master Builders Awards held last week by securing the top accolade in the commercial building category for projects valued between $20 million and $50 million. This achievement underscores the exceptional craftsmanship and innovative design that define the TRYP Pulteney Street Adelaide project.
The award-winning construction company behind this accomplishment is Marshall & Brougham Constructions. Their dedication to delivering excellence and pushing the boundaries of architectural innovation has now been recognised at the highest level within the industry.
"We are very proud of our team and delighted to be recognised with this award. The project's success reflects the collaborative efforts of Marshall & Brougham Constructions, the architects, the design teams, and all those who contributed to its realisation," said Daryl Crebbin, General Manager Marshall & Brougham Constructions.
The 120-room hotel is one of the hippest places to stay in Adelaide thanks to its unique and striking construction and design. It features guest rooms in four categories: Standard, Deluxe with superior finishes and fittings, six spacious Corner Suites and Executive Suites on the 11th floor with an eye-catching design and the highest level of finishes and fittings. It also offers an onsite restaurant and bar, Z-Kitchen.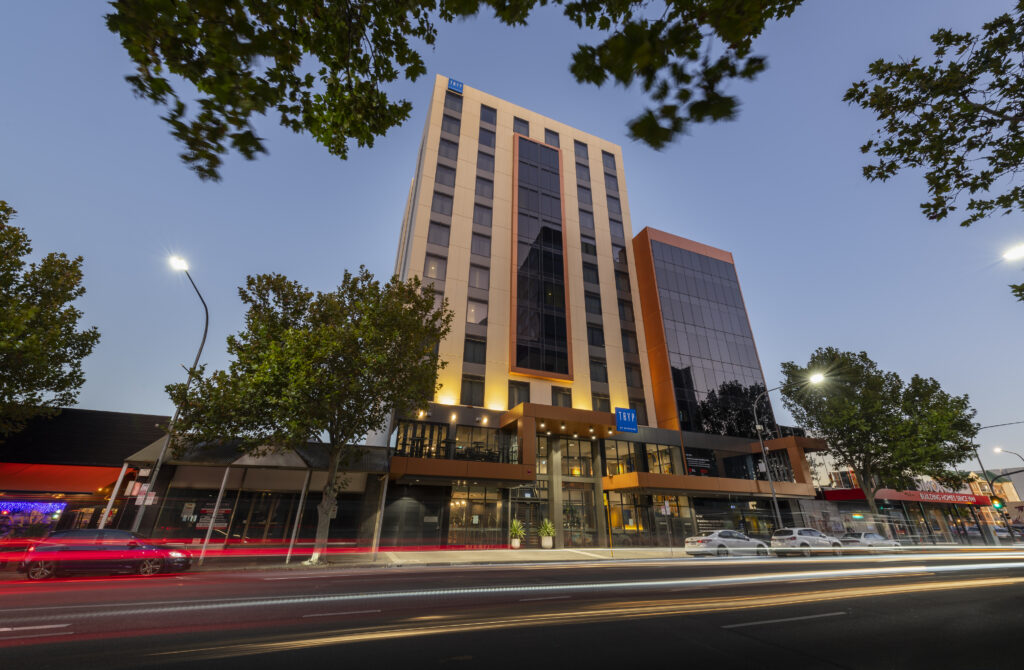 "We are thrilled that our hotel has been recognised in the competitive commercial building category," said Warren Cullum, Senior Vice President Operations, Wyndham Destinations Asia Pacific, the management company behind TRYP Pulteney Street Adelaide. "It was a delight working with Marshall & Brougham Constructions, who worked diligently to bring our hotel vision to life. This award is a testament to the collaboration, skill, and creativity that went into every aspect of the hotel's construction," he added.
The TRYP Pulteney Street Adelaide project stood tall against formidable competition, including notable projects such as the Coopers Stadium Redevelopment, Vibe Hotel, Cancer Council Building Greenhill Rd, Westminster School Stages 1, 2, and 3, Scotch College Wellbeing and Sports Centre, Tennis Centre Development (Memorial Drive), and the State Sports Park.
The Master Builders Awards celebrate the pinnacle of construction excellence, recognising those who have demonstrated outstanding workmanship, innovation, and dedication to their craft. TRYP Pulteney Street Adelaide's recognition is a testament to its exceptional design, quality, and impact within the commercial building industry.
Recent Post