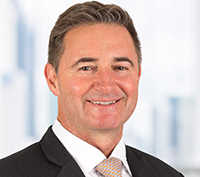 SINGAPORE (JANUARY 22, 2020) – President and Managing Director of International Operations for Wyndham Vacation Clubs, Barry Robinson, has been selected to lead the Asia Pacific Resort Development Organisation (APRDO), the industry body for timeshare in the Asia Pacific region. Mr Robinson now serves as President of the APRDO Executive Committee.
APRDO formed in 2019 to represent and advocate for its member businesses and enhance the success of the timeshare or vacation ownership industry, while also building consumer awareness and confidence in timeshare as an alternative to traditional holiday products. Its members include Hilton Grand Vacations, Anantara Vacation Club, Karma Group, Classic Holidays, Interval International, Marriot Vacations Worldwide, Wyndham Destinations and RCI, among others.
"I am honoured to have been chosen to lead the APRDO body and continue on its work in this diverse part of the world, where we are truly beginning to see consumers recognise the fantastic benefits and lifestyle that timeshare can provide its owners," Mr Robinson said.
"The multitude of languages and cultures and the differences in legal systems between the many markets can make working in this region both an exciting and challenging experience, so it is important that our member businesses have the ability to work together to protect both industry and consumer interests.
"I would like to pay tribute to the work that our previous APRDO President, Bill Minnock, former Managing Director Asia Pacific at Marriot Vacations Worldwide, did with APRDO before his recent retirement and I am committed to further raising the profile of APDRO and the timeshare industry in Asia," Mr Robinson added.
Other leadership appointments, effective from January 1, this year, include:
Vice President – Jeff Bernier; Senior Vice President, Sales & Marketing Asia, Hilton Grand Vacations
Treasurer – Joe Hickman; Vice President/Executive Director, Interval International Asia Pacific
Director – Martin Tolan; Regional Vice President of Marketing & Sales Asia Pacific, Marriott Vacation Club
Secretary – Paul Mulcahy; Managing Director, RCI Asia Pacific, India & EMEA
To find out more about APDRO, please visit www.aprdo.org.
Recent Post