Travel + Leisure Co. CEO Michael D. Brown visits offices that employ 440 in Clark, Philippines

Clark,Philippines (20 April 2022) — Wyndham Destinations Asia Pacific Philippines, a division of Travel + Leisure Co.  — the world's leading membership and leisure travel company, has rebranded to Travel + Leisure Co. Philippines following its expansion to support the company's global operations. 
The business' parent company, Wyndham Destinations, changed its name to Travel + Leisure Co. in the United States in early 2021 after acquiring the world's most influential travel brand from Meredith Corporation. Today, Travel + Leisure Co. is the world's leading membership and leisure travel company with a portfolio of nearly 20 resort, travel club, and lifestyle travel brands.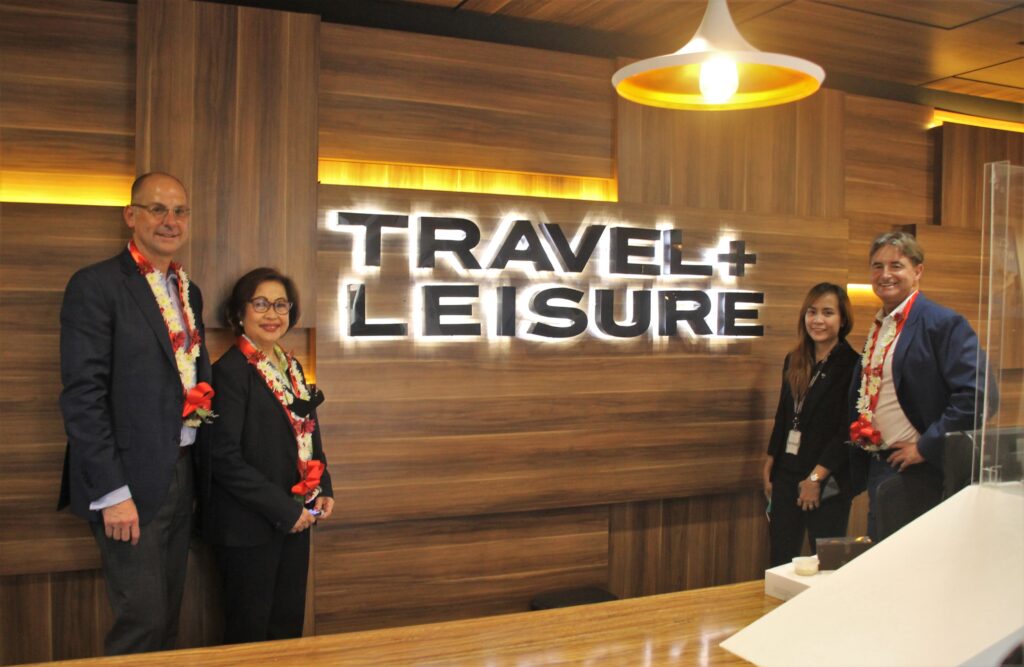 Michael D. Brown, President and CEO of Travel + Leisure Co. who is based at the company's global headquarters in Orlando, Florida, USA, visited the Clark offices on Tuesday this week to tour the facility and meet with staff. Also, the members of the Travel+ Leisure Co. executive committee that visited the Clark office are Barry Robinson, President and Managing Director, International Operations, Wyndham Destinations and Olivier Chavy, President of Panorama.
According to Mr. Brown, "I have looked forward to this visit to the Philippines for several years and am honored to finally be here to meet the team and tour our thriving Travel + Leisure Co. operation in Clark. As our company continues to grow, this team strengthens our ability to deliver on our mission to put the world on vacation. I am proud of their dedication, enthusiasm, and expertise."
The company's Philippines office began as a team of five in 2016 to initially support Wyndham Destinations Asia Pacific business operations. Today, with 440 employees, the operation has strengthened its support of Travel + Leisure Co. business lines and brands across the Asia Pacific, Europe and the USA including Panorama, RCI, Wyndham Destinations and Wyndham Destinations Asia Pacific.
"Changing our name to reflect our parent company's iconic brand reflects our delivery of global services as well as our commitment to the Travel + Leisure Co. presence in the Philippines" said Gloria Llamas, Director of Operations of Travel + Leisure Philippines.
The Clark office provides technical, customer, and operations support across many Travel + Leisure Co. business lines and brands. The thriving service center provides customer service to RCI members and Wyndham Destinations timeshare owners around the world.
As a global support team, the Clark office contributes to critical business functions such as business administration, HR, payroll, finance, information technology, operations, and brand communications. The operation also includes customer-centric expertise including club owner and member services, customer experience, customer care, owner enhancement, corporate marketing, consumer finance, inventory and exchange, and social media.
With the evolving needs of the global business, club owners, and ever-expanding markets, Travel + Leisure Co. continues to grow. The Clark team continues to hire and provide employment opportunities, as the office building can accommodate 800 employees on a 24/7 rotational shift.
"With the impressive talent pool in the Philippines, we expect that our team will continue to advance and strengthen in the coming years. We are proud to have developed a fun, collaborative, and inclusive work culture," added Llamas.
To view available jobs at Travel + Leisure Co. in Clark, visit the Facebook page Wyndham Services Asia Pacific – Philippines.
Recent Post