One of the many perks of beginning a career with Wyndham Destinations are the opportunities to put your life on vacation. In the Asia Pacific region Wyndham has their destinations scattered across many of the most sought after holiday locations in the world. As we now move past the Easter period we had many employees that are still reflecting on their stays in our fine establishments over their break. This lucky employee made the most of his time by escaping to our picturesque location in sunny Airlie Beach where he was greeted with the view and company to go with it.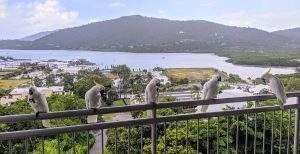 Shayne is one of our staff that has made the most of the company's perks by becoming a Club Owner with Wyndham. This allowed him to stay at our Airlie Beach location using vacation credits rather than having to pay cash. This is the second time he has used his Club Wyndham South Pacific ownership to travel to our North Queensland escape in the past 12 months which allowed him and his partner to have a more relaxing holiday over the break than his adventure seeking trip in the prior year.
As the leading vacation ownership company in the world, Wyndham Destinations believes in putting the world on vacation for its staff as well as its customers. Our discounted stays and club ownership are just two of the many benefits that are afforded to being an employee at Wyndham. For more details on the benefits involved in a career at Wyndham please explore our website.
We hope everyone enjoyed the Easter break as much as Shayne and his partner did!